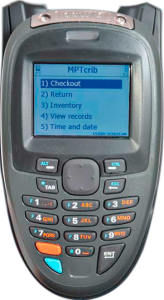 System Benefits:
Industry Exclusive Program
Easy Audit & Adaptation
Automated Management
Remote Access & More!
Program Overview:
Advanced Crib Organization
(Applicable to large scale machining/manufacturing cell areas)
Complimentary Site Evaluation
Program Proposal and scope of work
Full-scale audit of inventory
Sort, organize and assign barcodes
Evaluate and offer a Refurbishment Tooling Program
Integrate into powerful parts and tool management software
On-site system training
Follow-up audits and inventories
Continued support:

New die additions to inventory
Continued recommendations for inventory efficiency improvements

For Product Inquiries, email GetOrganized@MPTCrib.com and one of our MPTCrib Inventory Managers will follow-up with you.
Customer Testimonial
"The MPTCrib.com system created accurate physical inventories, eliminated overstock, out-of-stock and is-it-stocked problems. The system streamlines our costs overages by at least 35% and provides our tool room department the support needed to keep production machinery and facilities support equipment running. The MPTCrib.com system shows our potential customers we are organized and are utilizing the innovative, cost streamline ideals available out there today."
– Katrina Larmon, Plant Operations Crib Leader, BAE Industries
Moeller Delivers Unsurpassed Manufacturing Organization, Transparency, and Efficiency
With over 50 years of manufacturing expertise, Moeller Precision Tool has developed a revolutionary inventory
management software (IMS) system that is designed to maximize crib efficiency. The MPTCrib.com inventory
management program is the answer to automated tooling parts/components management. Our exclusive IMS system
provides you with complete and convenient control of parts and component inventory.
MPTCrib.com is engineered to audit and adapt to most manufacturing areas including existing storage methods and systems. Our barcode parts scanning system catalogs components provide inventory control, automatically uploads data and warns before stock levels become critical.
Benefits and Features
Portable and adaptable to most manufacturing areas/cells
Compatible with existing storage methods and systems
Barcode scanning / increased sign-out compliance
Automated uploading and reporting
Single or multi-step online ordering
Traceability and accountability tools
Receiving procedures for higher accuracy
Digital print/revision archiving
Overview access for administrators
Multi-facility capable
Available in multiple languages and international territories