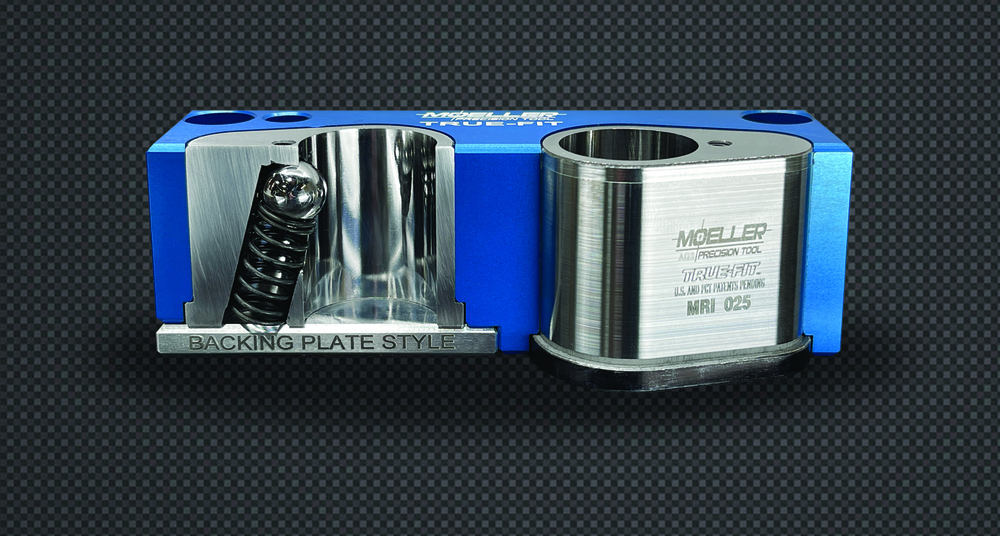 The Industry's Most Innovative Ball-Lock Retainer Insert
True-Fit™ is Moeller Precision Tool's insertable ball-lock retainer. Leading the industry in design and performance, it's the only one-piece solution on the market and is manufactured with through-hardened, shock-resistant steel. These features make it a long lasting, cost-effective solution as well. 
True-Fit™ is fit for use in die and retainer construction, refurbishment of existing retainers, and engineering change implementation. It's adaptable to all backing plate and Moeller True-Set™-style heavy-duty punch retainers. 
CAD files are available for installation machining purposes. 
Special Features
True-Fit™ stands apart from competing solutions because of these special features:
One-piece construction

with through-hardened, shock-resistant steel

Self-contained, heat treated, and precisely finished critical features

Adaptable booster spring and positive ball lock retention system

Available in standard inch and metric shank diameters
Benefits of True-Fit™
True-Fit™ offers die builders and metal stampers across the globe with the following benefits:
Unparalleled strength

and durability

Shock resistance

, eliminating punch release caused by ball bounce that's associated with heavy-gauge, high-strength, and aluminum materials

Cost-effective

, due to simple design reducing installation costs
Convert Your Existing Tools to Ball-Lock
Interested in our True-Fit™ ball-lock style, but already have shoulder punch designs drawn? It's not too late! You can use our CAD files to convert existing retainers to ball-lock style on your own. Our team is also happy to assist you with the conversion if needed. 
*Note: If you're designing new tools and need assistance to implement True-Set™ style retainers in your dies, please consult the factory to discuss any new project design services.*
Request Your True-Fit™ Retainer Insert Quote Today
Have questions about True-Fit™? Contact our team. As a global partner for standard and special die components, we can help you find the solution you need for high-quality-repeatable results.