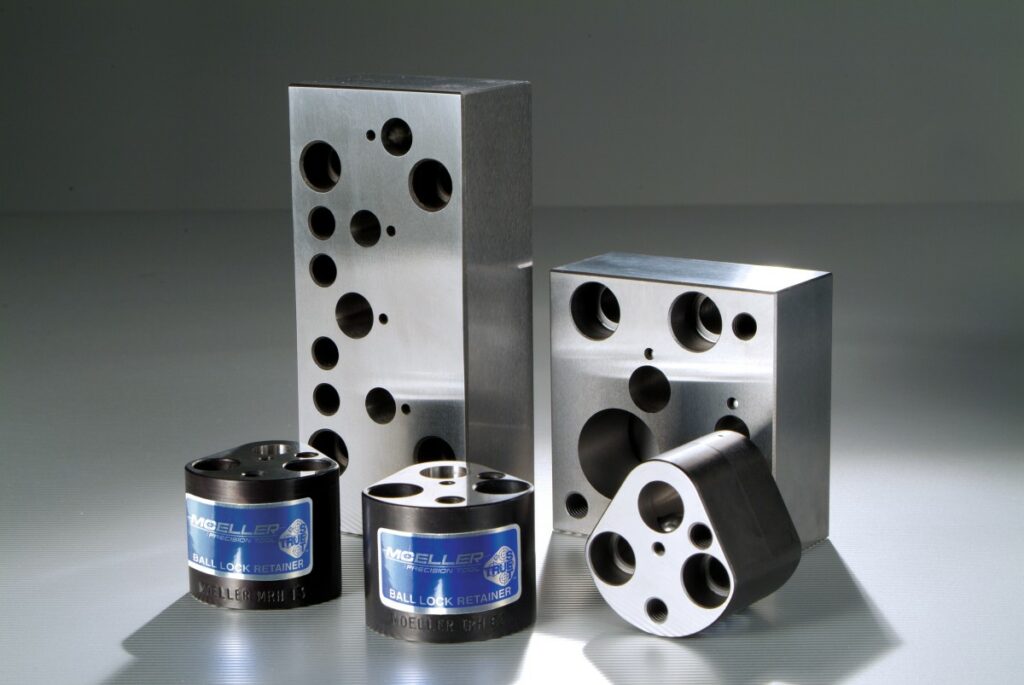 True-Set™ Standard Punch Retainers
Moeller developed our True-Set™ Ball-Lock Punch Retainers after listening to helpful customer feedback and conducting extensive real-world testing. We're proud to say they're the only punch retainers on the market that are manufactured from a single piece of premium tool steel, which is through-hardened for optimal strength and durability.
This unique, one-piece design reduces stacking tolerance errors, which allows for more precise punch positioning. The integrated backing plate means separate backing plates no longer need to be screwed to the bottom of the retainer. Our standard True-Set™ style retainers eliminate the need for pressed in plugs that are prone to catastrophic failure over time.
All of our True-Set™Style Punch Retainers also offer the following benefits:
Manufactured from a single piece of premium tool steel
Through-hardened for improved durability and extended life
More robust and precise than traditional backing plate or backing plug style
Reduced punch sharpening time
Cost-efficiency (15-30% savings over traditional backing plate retainers)
100% interchangeable with competing brands
Available in light and heavy-duty ball-lock styles
Available in both inch and metric sizes
Standard same-day shipments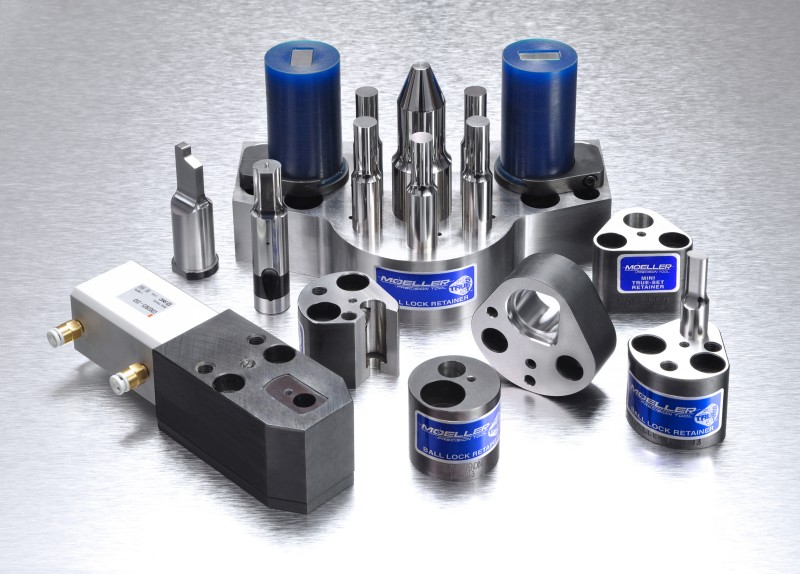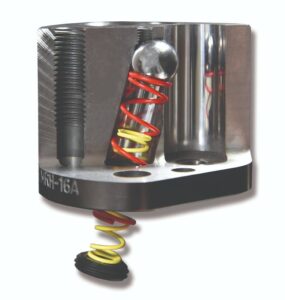 True-Set™ Advanced Punch Retainers
An enhancement to our standard True-Set™ style, our True-Set™ Advanced Punch Retainers include a booster spring for maximum punch-holding power, as well as a symmetrical 4th dowel hole to grant die designers maximum flexibility when designing symmetrically opposite dies for right and left hand parts. They're designed for the most demanding metal stamping applications, such as advanced high-strength steel (AHSS) and aluminum.
True-Set™ Advanced Punch Retainers are available in metric sizes only.
True-Set™ Special Multi-Hole Punch Retainers
Our special multi-hole punch retainers use the same True-Set™ technology as our standard and advanced punch retainers but are manufactured to your specifications. Their innovative design is adaptable to any metal stamping application that requires a ball-lock quick change. It also reduces sharpening time, allows for more precise punch positioning, and is able to be manufactured less expensively than standard backing plate retainers.
All of these construction benefits plus their cost-effectiveness, makes our special multi-hole punch retainers a win-win.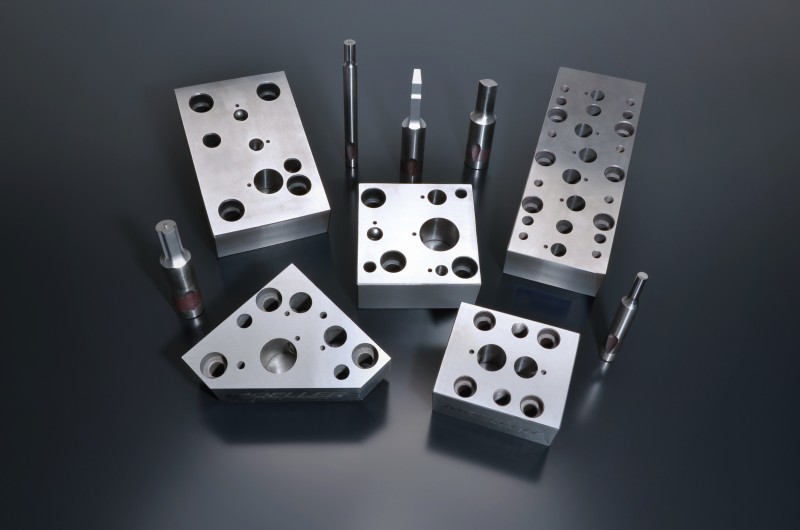 True-Set™ Punch Retainers vs. Backing Plate Retainers
When you replace traditional backing plate retainers with our innovative True-Set™-style retainers, you'll enjoy various benefits in terms of time, investment, and longevity. Here's a side-by-side comparison for reference.
True-Set

™

Ball-Lock Punch Retainers
Traditional Backing Plate Retainers

One-piece construction, manufactured with a single piece of through-hardened tool steel. This provides more surface for support and guarantees flatness and squareness.

Two-piece construction, where a backing plate is welded to the retainer or mechanically attached

No backing plates or plugs necessary

Additional backing plates and plugs must be kept in stock. Plugs and backing plates can result in angularity and mis-alignment.

Spring-loaded ball bearing, which locks into teardrop ball seat and prevents punches from falling out

Punches may fall out or move out of position if not installed properly

Eliminates alignment and positioning issues

Difficult to maintain perpendicularity, leading to misalignment issues

15-30% cost savings

Additional costs in regards to backing plates, plugs, tool wear, sharpening, etc. 
Enjoy Free Design Services to Convert Existing Tools to Ball-Lock
Interested in our True-Set™ style, but already have other tool designs drawn? It's not too late! We offer FREE design services to convert your existing tools to our patented True-Set™  style. We'll assist you with the conversion, so you can later implement those changes within your die — ultimately bringing more durability, precision, and consistency to your stamping applications.
*Note: If you're designing new tools and need assistance to implement True-Set™ style retainers in your dies, please consult the factory to discuss any new project design services.*
Request Your True-Set™ Punch Retainer Quote Today
If you have questions about our True-Set™ ball-lock punch retainers, or if you'd like to request a quote, contact our team. As a global partner for standard and special die components, we're here to ensure your needs and expectations are satisfied.