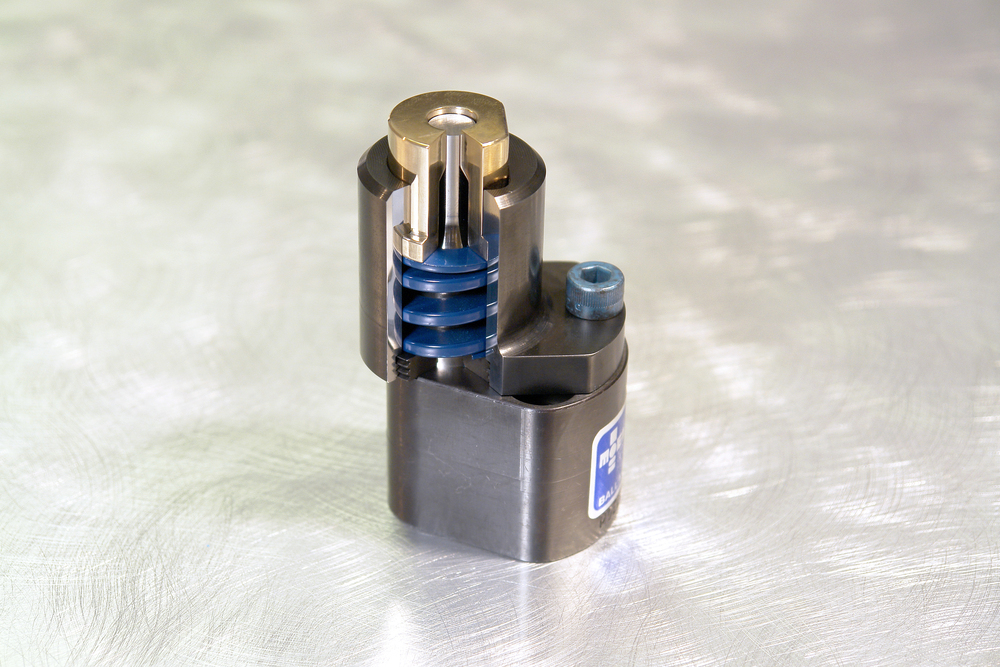 The Industry's Strongest and Most Accurate Mechanical Stripper
True Strip™ is a fully self-contained, high-performance stripping device, and it's the best in its class. Designed for impeccable accuracy and durability, it can pierce and strip material thicknesses up to 2mm. Its critical operating surfaces are precisely machined, offering superior squareness and alignment while promoting longevity even under side-load conditions.
True Strip™ manganese-bronze stripper is precision-fit to the housing and slides, both on the body and shoulder. This provides a dual gliding condition that ensures stability throughout each and every stroke.
CAD files are available for download here.
Special Features
True Strip™ surpasses competing solutions because of these special features:
Housing made from pre-hardened steel and corrosion-resistant black oxide finish

Stripper made from manganese-bronze

Pre-loaded die spring for extended life (variety of options/stripping forces available)

Spring cap threaded to a positive stop

Fits standard heavy and light-duty ball-lock and shoulder-style retainers
Optional features:
Custom strippers for contoured panels, multi-hole punches, non-marring applications

Special multi-hole retainer design
Benefits of True-Fit™
True Strip™ offers manufacturers and tool and die makers across the globe the following benefits:
Optimal stripping forces

with variable spring options

Increased punch life

, due to pre-loaded springs and attachment foot

High accuracy

, thanks to dual gliding condition and stable strokes

Corrosion resistance

from black oxide finish
Questions About True Strip™? Contact Our Team
As a global partner for standard and special die components, we can help you find the punch stripper solution you need for high-quality, repeatable results.