When searching for a precision tools manufacturer, it's critical to partner with an experienced and knowledgeable team who can ensure top quality. What's one way to identify that team among the rest? See if they adhere to any quality control systems and processes, and if they possess any quality control certifications.
What Is Quality Control for Precision Tooling?
Quality control (QC) is defined as a method of ensuring that a manufactured product complies with a particular quality standard or customer requirement. By testing a sample of the product against the standard or specification, manufacturers can guarantee top quality, repeatability, and satisfactory performance of products.
In a precision tooling environment, quality control helps to:
3 Quality Control Systems for Precision Tooling
A quality control system, also known as a quality management system (QMS), is a collection of specifications, standards, processes, and responsibilities that set the foundation for quality control efforts. There are various quality control systems out there, each established by an organization and with its own product, service, topic, or industry of interest.
Below are three common quality control systems used in the precision tooling industry.
1. ISO
ISO is short for International Standards Organization, which is an organization with a membership of over 160 national standards bodies. The organization brings experts in various industries together to develop consensus-based standards that support quality, consistency, and innovation across the globe.
There are ISO standards for many industries and issues — from environmental management to risk management, food safety, and more. In the precision tooling environment, ISO 9001:2015 is of the most importance.
ISO 9001: 2015 dictates specific requirements for quality management systems when an organization:
Needs to show its ability to consistently manufacture products that meet regulatory and customer requirements, and;
Wants to improve customer satisfaction through innovation and continuous improvement.
At Moeller Precision Tool, our headquarters in Wixom, Michigan, was the first domestic punch manufacturing facility to achieve ISO 9001:2015 certification. Our other locations are not ISO certified but follow the same procedures outlined in our HQ's quality manual.
2. Six Sigma
Six Sigma (6σ) is another quality control system that imposes a number of tools and techniques for process improvement. It uses data and statistical analysis to identify causes of defects, minimize variability, and create strategies to improve quality in manufacturing and business processes.
There are five key principles of Six Sigma:
Focus on the customer
Use data to identify process defects or variations
Continuously improve to eliminate defects and variations
Include people from different teams and levels of management
Be flexible and thorough
The many tools and techniques provided by Six Sigma help businesses ensure these five principles are executed. From there, each business can earn a Six Sigma certification. Certification tiers are listed similarly to karate belts: white belt (lowest), yellow belt, green belt, black belt, and master black belt (highest).
3. Die Standards
There are various quality control systems that set forth standards specific to die assembly and metal stamping. One of the most common is NAAMS (North American Automotive Metric Standard) Global Standard Components for Assembly and Stamping.
NAAMS standards are produced and maintained by Chrysler, Ford, General Motors, and their suppliers. They define approved components and their specifications to ensure consistency among automotive parts and how they're engineered. At Moeller Precision Tool, our standard die punches, buttons, and retainers conform to NAAMS.
Original equipment manufacturers (OEMs) also have approved vendor lists that direct whose die products a die builder is allowed to purchase. Any punch manufacturer on that list has been verified to meet the necessary standards set out by the OEM. If a punch manufacturer is not on the list, an OEM is not likely to purchase from them. This is the case for OEMs in many industries — not just automotive.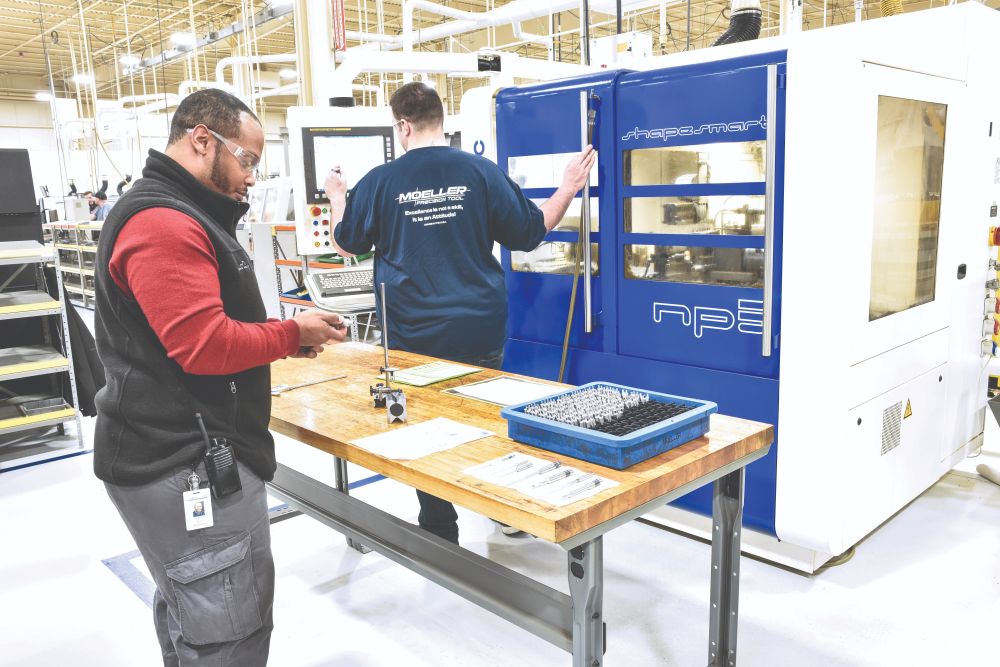 Pictured: Moeller Precision Tool's team verifying parts coming off the machine.
Quality Control Processes for Precision Tooling
At Moeller Precision Tool, we hold our tooling up to incredibly tight tolerances of .0002". In order to maintain those tolerances and adherence to required quality standards, we employ the following quality control processes and efforts.
Visual Product Inspection
Our production staff and quality control team visually inspects product samples for assembly errors and cosmetic defects. First piece inspection is a critical step in the manufacturing process. Moeller can offer inspection reports that articulate square root quantity, critical dimensions, and/or certificates of conformance for inspected products.
Equipment for Inspection
Our team uses a variety of tools to inspect and verify that products conform to customer prints. These tools need to be calibrated regularly (usually monthly or quarterly) in order to ensure reliable results during inspection.
Calipers, micrometers, and other manual tools
Optical comparators
CMM inspection devices
Opticline inspection devices
Profile measurement systems
Environmental Control
We maintain strict environmental control over our manufacturing environment to ensure no external factors affect end results. This includes:
Temperature control
Cleanroom usage for high-risk procedures
Regular equipment calibration and maintenance
Continuous Improvement Committee Meetings
We have a Continuous Improvement Committee that meets quarterly to review key performance metrics, discuss new technologies and capital equipment, and create new or update existing policies and procedures to ensure we provide the highest quality tooling and unparalleled service to our customers.
Automation and Programming
As part of our commitment to innovation, we use automated and programmed equipment to our advantage. Automated procedures eliminate risk and ensure repeatability, so they are put in action whenever possible. Along with the programs and processes used in manufacturing, Moeller has also implemented automation programs in our shipping department, on our CNC machines, and in our order entry departments for accuracy.
For Top-Quality Precision Tools, Trust Moeller.
At Moeller Precision Tool, we provide unsurpassed quality and innovation for the special tooling required in metal stamping, forming, piercing, and trimming industries. Our quality control processes apply to standard and custom detail tooling — providing cost-effective manufacturing and world-class performance from every part produced.
For more information on what parts we can manufacture for you, contact our team.